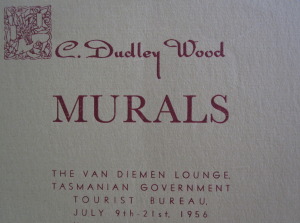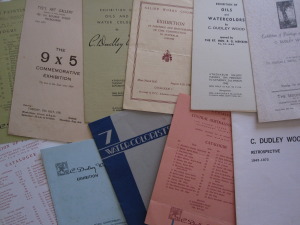 C. Dudley Wood exhibited his works mainly in solo exhibitions, beginning in 1934 at the Sedon Galleries and at many other venues in Adelaide, Brisbane, Tasmania, Perth and in the 1960's at Sydney's Artarmon Gallery. In Melbourne yearly exhibitions were held at the Athenaeum Gallery or Tasmanian Tourist Bureau Gallery until  the early 1960's when his home gallery was built  in Canterbury. Here he exhibited until the late 1970's.  A retrospective exhibition was held at the Balmoral Gallery, Fyansford , Geelong in 1979.
The first group exhibition he contributed to was the 1924 British Empire Exhibition at Wembley, UK, where one of his designs was included in the Australian Pavilion. In Melbourne he exhibited with the Victorian Artists Society from 1930-1947, with the Seven Watercolourists 1932-1935 and in the 1950's with the Fellowship of Australian Artists.
More details on exhibitions and works in public collections can be found in the book.